Products
Galvanized Double Twisted Mesh Gabion Baskets
Most popular gabion baskets are made of double twisted wire mesh finished with galvanizing or hot dipped galvanizing. Aerct supplies Three Types of Galvanized Double Twisted Mesh Gabion Baskets.
1. Double Twisted Galvanized Gabion Baskets:
Gabions Materials:
Double twisted galvanized mesh with diaphragm 2 x 1 x 1 meters.
Double twisted galvanized mesh with diaphragm 3 x 1 x 1 meters
Note: The gabion baskets have to be empty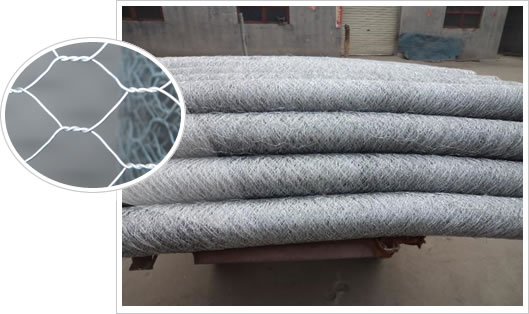 2. Hot Dipped Galv. Double Twisted Gabions:
The closest size is 1m x 2m.
Gabions Specification;
1) Size required - 2 x 1 x 1 m
2) Wire diameter 2.7mm-3mm
3) Surface treatment: Hot dipped Galvanized
4) Opening style: Twisted hexagonal or square weaving styles
5) Diaphragm: every 1 meter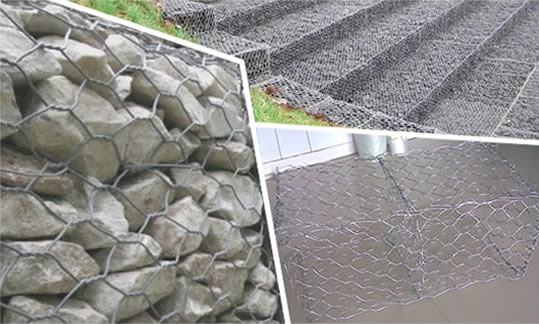 3. Double Twisted Gabion Baskets for building decoration:
Galvanized twisted mesh baskets or boxes are also used for buildings (castles, for example) decoration. The baskets size 750 x 375 x 1050 high. The gabions will be sitting on concrete bases as a decorative piece.
Twisted Mesh Size - 100 x 120​
​M​esh Wire Diameter - 2.7mm
​Selvedge Wire Diameter - 3.4mm​
Technical Information of Double Twisted Gabions:
 Wire Diameter
Width Of Roll
Technical Note:

Tolerance

BWG

Wire Diameter

Inch

Metric

Single, double, or with reinforced edge for customer's choice.
Weaving style: Double twisted

Finishes of gabions: Electric galvanizing or hot dipped zinc plating. PVC coating is available upon customers request.

+0.5

27-23#

0.41-0.64mm

1'-6'

0.1-2m

-1.5

27-22#

0.41-0.71mm

1'-6'

0.1-2m

+1.0/-2.0

27-22#

0.41-0.71mm

1'-6'

0.1-2m

+1.0/-2.5

26-20#

0.46-0.89mm

1'-6'

0.1-2m

+1.5

25-29#

0.51-1.07mm

1'-6'

0.1-2m

-3.0

24-18#

0.56-1.24mm

1'-6'

0.2-2m

+2.0/-4.0

23-16#

0.64-1.65mm

1'-6'

0.2-2m

+2.0/-4.0

22-14#

0.71-2.11mm

1'-6'

0.2-2m

+2.0/-4.0

21-14#

0.81-2.11mm

1'-6'

0.3-2m

+2.0/-4.0

20-12#

0.89-2.8mm

1'-6'

0.5-2m